Isaiah 52:7 ~
"How beautiful on the mountains
are the feet of those who bring good news,
who proclaim peace,
who bring good tidings,
who proclaim salvation,
who say to Zion,
"Your God reigns!"




March 29 - April 5, 2008
Spring Break
The BCS Missions Team
Fastest week of my life
You can hardly imagine my excitement that Saturday morning. Or my anticipation that afternoon as I practiced with the ARDE praise team before youth group. While we did a sound check, Cheizi held on to my phone in case my dad should call. She got a call, around 4 I would say, and it was Jenny! We screamed. We danced. They laughed.
They were really here!
That night we mixed the American team with the Dominican youth group at our church here. Singing praises, playing games and dancing. We had a great word from Mr. J about Thomas. And spend the night snacking on chips, drinking soda, and mingling. Then we came home to the wonderful smell of Ratatouille and pasta made by our dear friend Mrs. Betty Poppe. Then the team crashed. Some sleeping in the living room, some on the screened back porch, some in the blue and palm tree rooms, some upstairs. Good times.
[[I should note here that most of them, if they didn't sleep during their layover, had been up since 6 o'clock the morning before. They woke up for school, had a normal day, stayed up until 2 in the morning to meet at the school so they could get to the airport on time and so on.]]
Sunday morning we went to Iglesia Cristiana Palabras de Vida, the Dominican church we attend here. The worship was great, it was just a wonderful experience. Mireya had a word from the Lord during worship, in which she said, "There is an oasis in the middle of your desert." Senor Hector, who had the pulpit in place of Pastor Raffy, spoke on Loneliness.
After church, we had lunch, then got on the bus to head to La Romana. We played the Cup Game. If you know what I'm talking about, then...well, you know. It was hilarious. Poor Dillon was so very frustrated. We made a small pit stop by the ocean (exactly where we stopped with Mr. J's church team last summer) and took a moment to look over the Caribbean, take a few pictures.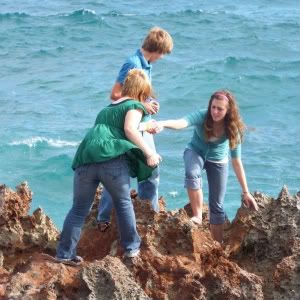 We went directly to the Haitian church we would attend that night, Sanidad de Jehovah. That night they had a special Praise and Worship service. Three amazing hours adoring our Father God. Dancing, singing, worshiping. That is one of the best services I have ever been to.
The next two days we spent in La Romana. The Seniors went on a small medical missions team for the day, while the rest of us went to a girls' orphanage. Immediately, this little girl in the picture on the left of my site clung to me, all day long. Yaneli, I believe that's how you spell it. She was a fiery little thing. Very demanding and excitable. And yet, there was a sweetness about her. Her only desire was to be loved. She was frustrated, and I think that's what made her lash out a bit. But I nicknamed her "Buena" because I knew that, really, she was a good girl. God taught me quite a few lessons with her. One being that, no matter how wrong we feel or how much we hurt (and lash out against Him) He will always hold on to us with loving arms. Patiently waiting for us to accept His love. It doesn't matter if He is hurt in the process, or if it looks like we aren't making any progress. He will love. I will love.
That night we went Altos de Chavon in Casa de Campo. A lovely place. Jenny, in the picture below, said that if she could marry a location, this would be in the top ten. I would suggest visiting there at least once in your life.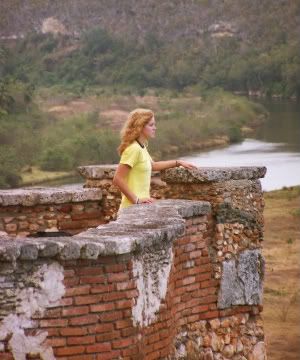 The next day the whole team went to the girls orphanage for a good amount of hours. We played baseball, played jump rope [[I was in a contest the day before with some girls. One girl jumped 102 in a row. I was supposed to break the record. My legs wouldn't move anymore after 90.]], danced in the rain, played bingo, pushed them on the swings... So many things. By now, all the girls were teasing each other with which boy they liked from the team. Giggling and teasing one another about telling and such. But, of course, no one dared.
Right at the end, we made bookmarks for the girls with their names on them. So they were quite content with their bookmarks and heart shaped balloons. Some still had bracelets on from when we visited last time. For those who didn't, we made new ones. We had a fantastic time, we found it hard to leave, and they found it hard to let go. There were many promises of visits in the summer. I have no doubt that will happen.
On Wednesday we went to Cercadillo to help paint a church for the kids. They decided they wanted to join in. They were so very eager to help that paint brushes, if you weren't looking, would be taken right out of the bucket or tray. They did work really hard. And helped. But what you see below is an amazing feat. Some on the team were instructed to keep the kids away from the shovels and picks, so they decided to start a game of pato, pato, gonzo (what we call duck, duck, goose). I don't know that I've ever seen a better circle with so many kids.
We also carried large wooden benches on our shoulders quite a long way from the school to the church. I did this. All I could think about was how much harder it had been for Jesus. With forty lashes on His back, until He hardly looked human, dragging a rugged cross on His bleeding shoulders uphill to Calvary.
He doesn't really ask much of us, does He?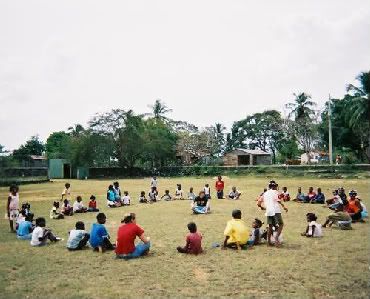 The picture at the top is from the highest point on Restoration Ranch, where we did a prayer walk and some painting on Thursday after going to the market. That was an amazing day. It began to rain, and we just all went out in the fields and under the trees to pray for all those whose feet would set upon that land. What a privilege to be a part of something that will bring glory to God's name. That will be a place of refuge for me. And for many others.
If you would like to read more on Restoration Ranch and what we will do there:
go here
.
We also had dinner at the Cheizi's house. We had a great time swimming and playing pool. And may I just say, Cody and I dominated the table. Thank you very much.
The last day was fantastic. Friday was our free day. We went to Jarabacoa and hiked to a waterfall. A few others and I climbed this huge rock wall next to the waterfall. Estamos locos. Seriously. But the really awesome thing that happened that day... Three from our team got baptized! Including my little brother Isaiah.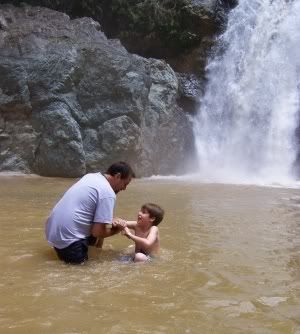 So needless to say, saying goodbye at the airport on Saturday was not easy at all. But it was definitely the right thing. In more ways than one. Amazing things happened in the terminal during their layover in Puerto Rico. Ministering, singing, praying... just a wonderful way to end of their missions trip and keep them pumped about what they can do when they get back.
We can make a difference.
It's time to set the world on fire.
See you later, guys.