Summer's almost over, and school starts soon.
I don't think you can even begin to imagine how amazing and crazy my summer has been. Who could have know so much could happen in such a small amount of time?
My summer started
right
after school was over. I know that's pretty obvious, but I mean, my summer got kicking before the night was even out. As soon as I finished, I was packing my bags to go on a trip with my best friend Cheizi. I was at her house that night. We stayed up late watching movies and that morning we were off to the airport. Her family invited me on a trip to Orlando, Florida with them as our last big get-together before Cheizi left for college to live out her dream in Australia.
We have friends in Florida who have come down to the Dominican Republic twice now. We decided to get together and have a Prom for Cheizi. So we got all dolled up and had prom in Downtown Disney. Cheizi had pictures, a date, corsage and everything. We had a great time. I would go into detail, but, I have the rest of the summer to tell you about.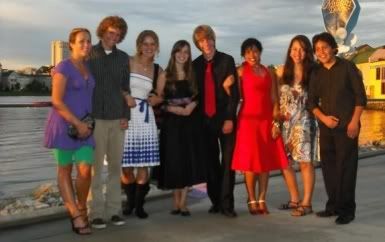 I was scheduled to fly back home alone (my first time) the same day that the Bethel Team would be flying in. Do you see what I mean about crazy amazing, now? Luckily, despite certain obstacles I had to overcome, I made it home alive. And I happily found Kirstin, Kaleigh, Travis, John, and my dad waiting for me as I came out of the terminal.
That week, the Bethel team worked with us on Restoration Ranch digging the septic tank and filling in the foundation of the second building. As well as some other chores the guys found for us. We carried wood and logs that would hold up the ceiling for pouring the roof in (which I witnessed a few weeks later). Some others bent and cut iron bars that would hold the ceiling. You can go
here
to check out more stuff on that.
Point is, I had a great week. I got to see old friends and make new ones. And even though it seemed like the team was never going to get home (that's a whole story in itself) it all worked out great. We had the time of our lives. I love those guys.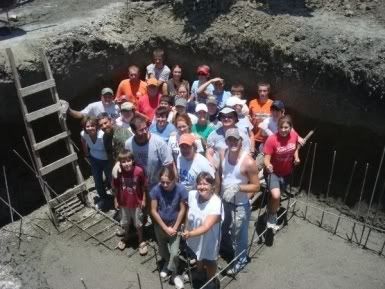 A few days later, Tom and Cindy Darnell came to stay at our house for a month. They are wonderful people of God. They helped in so many ways, I can't even name them all. But one huge thing they helped us with was moving. Yup, in the midst of summer chaos, we were moving too. So we had about a week of packing before another team was coming in. (Oh, and during that, my dad turned 40!) We would be housing a team from Texas who would be joining us for our annual campamento. Every year, our youth group has a camp. This year, we would have 15 Americans joining the fun group. Oh yeah, it was going to be epic.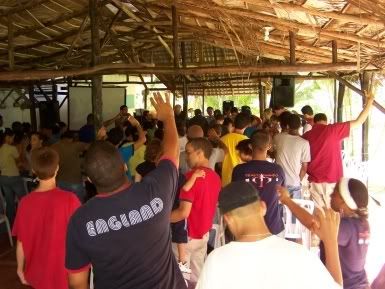 This year the theme was "Arde in Alabanza y Adoracion", or "AAA" for short. To translate, it was about true praise and worship. Since worship time during camp was
already
slamming, I was extremely excited to see how it would turn out this year. And I would be a part of it!
Needless to say, the camp was amazing. I had a wonderful time. And then we did outreach with the Texas team for a few days after that. We went to an orphanage, Genesis, and Zona Colonial. We just has a terrific time and it was hard saying goodbye to those guys.
The Millers stayed a week longer, and we had the chance to hang out with them one more time before they left. By that time, another team had arrived. A small one from Florida. Bits and pieces of our beloved BCS team came to help us with moving. So Jesse and Jen tagged along for the "going away party".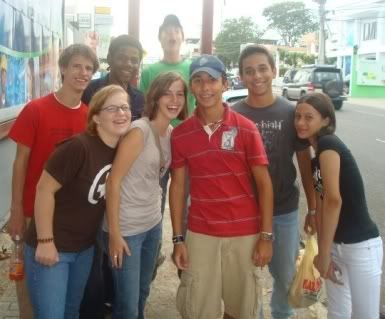 Oh...did I mention I got my haircut? I think you can tell a pretty huge difference between the group prom picture and this one above. I decided to do
Locks of Love
. There's the link if you want to check out the program.
So, the last team of the summer was the smaller version of BCS who came and stayed in March. We had a great time painting, organizing, hanging out, trying out corn flavored ice cream (I kid you not.), and just drawing closer. They even got to see Restoration Ranch since they last saw it in March. And for Jen, it had been a year. She was amazed to see all the progress.
Well, it's been a crazy year. I wish I could tell you more, but those are stories that should be told face to face. This summer was great. I don't think I could have asked for a better one. I met and got to know some awesome people. Friends I'll keep for the rest of my life. So, as the summer comes to a close and the school year starts, I'd just like to thank God for all the opportunities and memories He has blessed me with. I couldn't ask for more.
I love you, Jesus.